Name:
Discord Spirit of disharmony.
Gender:
Male
Age:
over a thousand years old
Race:
Demon (technically a draconequus)
Fear:
being turned into stone
Hair color:
White
Eye color:
yellow
Height:
6"9'
Appearance over all: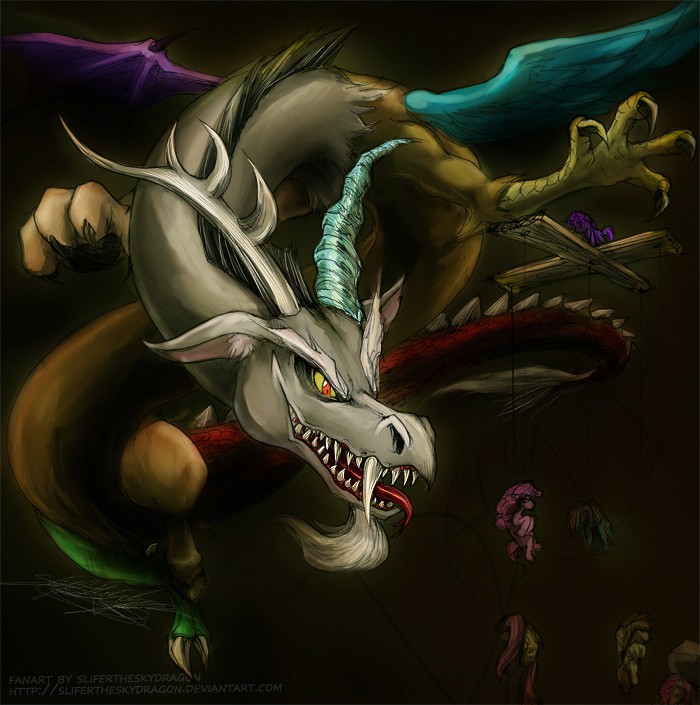 Personality:
"Making sense what fun is their in making sense."
Discord is a spirit of Disharmony, as such most of what he does he does for chaos sake. He doesn't believe in killing so much as distorting reality. Many who face him will loose the power to fight by having many of their main traits re arranged. In a sense he is a puppeteer character manipulating others to do his bidding instead of destroying his enemies directly.
He is a chipper spirit, freed from his prison of stone he prefers to work towards the creation of his own perfect reality.
Weapon:
nope
Equipment:
nope
Abilities/Power:
Discord has the power to manipulate the world around him, everything from illusions to mind alteration. The latter of which is a power that needs to be defined more clearly for rp.
Mind alteration is a power in which it changes one trait of a characters personality. A shy person finds there shyness replaced with cruelty, or a normally joyful person is changed to a brute. Honesty to dishonesty etc etc. Discord uses this power to diswade people from acting together, because of his weakness he cannot allow a group of people to face him.
Discord can also alter the world around him in a physical manner; things that would seem impossible are commonplace such as cotton candy clouds that rain chocolate milk. These anomalies of nature mark discords path where ever he goes.
RP Example:
(just to see how you rp)
History:
1000+ years ago Discord was the ruler of a realm called Equestria. A land inhabited by ponies but ruled over by the draconequus Discord. When the alicorns apposed his rule Discord took it upon himself to set into motion the events that lead to the Alicorn extinction, using a combination of plague, draught, famine and internal war Discord succeeded in ridding the land of the most powerful of Equestria's defenses or so he thought.
Two alicorns survived the purge, members of the long gone noble class, Princess Celestia and Princess Luna, they hunted Discord injuring him and persuing him across the land of Equestria. They never stopped hunting never stopped fighting, and eventually the two survivors of the alicorns were able to stop discord, by combining there magic, and forming the six most powerful elements of magic in the realm, the elements of Harmony consisted of all the good the two sisters had felt, In a life of constant strife they conjured memories of their loved ones and families to create the ultimate nails in discords coffin.
The energy turned Discord to stone, and also gave him a crippling weakness, The elements of Laughter, Kindness, loyality, honesty, Generosity, and Magic, opened a crippling flaw in Discord. Essentially these virtues when found in any group of people can cripple discord as long as they stand united. Cleansing his magic and turning Discord to stone.